Today, MonkHammer [the man] turns 40, a time of celebration and reflection. With that in mind, I have given myself a present: the envious task of choosing 40 albums that have shaped my life thus far. These are by no means my favourite 40 albums of all time, although obviously there is a fair bit of crossover, nor are they the best albums by these artists. No, these are simply the 40 albums that made MonkHammer the manchild he is today, the kind of manchild that still refers to himself in the third person on occasion. Hopefully it goes some way to explaining why I am how I am, but in reality it's little more than a nostalgic aversion to doing any genuine reflection, which can only end in tears and a series of increasingly ill-informed purchases/decisions about the future.
Just like tomorrow's hangover, it's going to be a battle to get to the end, and we're going to have to wade through some pretty nasty episodes before the light shines through, but let's crack on. Also, just so you know, I'm going to cheat and sneak in more than 40 albums, because it's my fucking birthday.
You can "enjoy" a Spotify playlist of the top tracks from each album here if you're so inclined.
1) Michael Jackson, Bad (1987)
It seems only right to start with a first, so let's start with the first album I ever bought, on cassette no less. A stone cold classic from start to finish, just like this list *cough*
2) Poison, Flesh & Blood (1990)
What? It's totally a stone cold classic! OK, maybe not, but my first album on vinyl is still a landmark of Sunset Strip excess, and if you've never snaked your hips to Unskinny Bop after one too many snakebites then I don't know how to fix you.
3) The Lost Boys soundtrack (1987)
Finishing the triple, my first album on CD. For all their faults, it's hard not to be grateful to my brothers for convincing my parents that vampire classic The Lost Boys was totally suitable for a fairly sheltered, rural 10-year-old. For the record, I didn't pee myself, it was apple juice; that stain was already on the couch anyway; and I always watch films from behind cushions, even romcoms.
4) Madness, One Step Beyond (1979)
Arguably the first band I ever truly loved, a seamless combination of pop mastery and bowler-hatted British eccentricity that still delights today (as evidenced by our recent reviews of the new albums by Pete Spiby and Marmozets)
5) The Blues Brothers soundtrack (1980)
When you're barely into double figures and the internet doesn't exist, soundtracks are an obvious source of inspiration, and MonkHammer obviously chose to start with the best. Told you it was nothing but classics!
6) Beastie Boys, Licensed to Ill (1986)
The answer to the questions "what was your introduction to hip-hop?"; "which album can you sing literally every word to, but often not the actual words, just vowel sounds that sound similar, but which you've never bothered to look up and learn?"; and "why do you always include the word 'and' when counting from 4 to 1?"
7) AC/DC, Dirty Deeds Done Dirt Cheap (1976)
By no means the best AC/DC album, or my first, or even my favourite (the answer to all three is Highway To Hell, FYI), but Dirty Deeds was the one that taught MonkHammer never to take anything too seriously. [Ed's note: In all honesty, I may have taken this mantra too far on occasion. Wait, I'm starting to reflect on my life. Keep moving!]
8) Metallica, Master Of Puppets (1986)
OK, now we're talking. Everyone remembers the album that opened the floodgates. For MonkHammer it was Metallica's classic third LP, the full-scale assault of Battery acting like a tractor beam into big brother's vinyl collection, a veritable treasure trove of thrash, NWOBHM, hair metal, goth and …. Adam and The Ants.
9) Motley Crue, Doctor Feelgood (1989)
Another one from the collection of big brother, Dr Feelgood, along with GnR's Appetite for Destruction, soundtracked too many school runs and break times not to be included. Vince and co get headline billing because GnR … meh, whereas our mutual love of Crue came full circle at the band's last ever UK show, as we stood directly under Vince Neil's riser, desperately praying it was made of some kind of adamantium, steel and diamond alloy.
10) Electric Love Hogs, Electric Love Hogs (1992)
BBC Radio 1 is largely wetter than an otter's pocket these days, but in the early 90s, they would air live rock concerts and festivals, which is precisely how a teen MonkHammer came to discover John Feldman's pre-Goldfinger funk punk misfits, supporting Ugly Kid Joe at the now defunct London Astoria, sparking a furious desire to SEE music, not just hear it. Several hundred gigs later, my hearing, knees and liver are beyond fucked, but we've had a good time, right?
11) Faith No More, Angel Dust (1992)
Released mere days before a teenage MonkHammer was forced to endure the cruelest indignity of British schooling – the French exchange – and the only thing that saved an arrogant Frenchman called Hubert from an undignified death, Angel Dust teaches us another important lesson: Truly great music rarely follows formula or trend.
12) Spinal Tap, Break Like The Wind (1992)
Picture the scene: A teenage boy, quiet and polite, enters Our Price in Yeovil on a break from shoe shopping with his mum, a glint in his eye and a skip in his step. Browsing the racks, he discovers an album that combines his three growing passions: rock, comedy and movies. It whispers gently, "buy me, buy me". He swoons, and cradles the precious jewel in his hands, until the moment is destroyed by a piercing yell of "Oy, ginger bollocks, you're not old enough to buy that. Fuck off."
Again, just for the record, I didn't shit myself; that was the design of the pants; and I always run out of shops, whether I've bought something or not.
13) Stone Temple Pilots, Core (1992) & Purple (1994)
A double-bill for STP, because after hearing the grotty beauty that is Vasoline, a teenage MonkHammer did the unspeakable and sold all his AC/DC albums to a seedy second-hand dealer to raise the funds for the grunge classics. Naturally, this wrong has since been righted, but I still feel dirty just recalling it.
14) Sisters of Mercy, A Slight Case of Overbombing (1993)
Some albums burrow into the memories of a particular period, but the first hits collection from Sisters of Mercy left a more permanent reminder for MonkHammer in the form of a series of deep red scars, since it's the album we were listening to when "someone" (I know it was you, Brandon Evans) pushed me through a window while playing football indoors.
15) Judgement Night Official Soundtrack (1993)
Dreadful film, tremendous album, and a timely reminder that hip hop and metal need not be enemies when in the hands of the right people.
16) L7, Hungry For Stink (1994)
To reach the tender age of 16 before experiencing true musical disappointment is no mean feat, but boy did I fall hard. L7 were absolutely everything I wanted from a rock band in 1994 – dirty, unpredictable, and capable of penning effortlessly cool grunge anthems at the drop of a hat – but their bloated fourth knocked them off that pedestal like a demolition ball to the face. Thankfully, time has been kinder to the songs than I was back in 1994, but still, thank god they've rediscovered their mojo.
17) Dub War, Pain (1995)
In 1995, only a tiny handful of people had heard of Dub War, an obscure Welsh outfit blending punk, metal, reggae and jungle. I was not one of them, until a minuscule review in NME planted a curious little seed, fueled by a chance sighting in a local music shop and harvested by an offer of a birthday present. Always take a chance, you never know what gems you might find.
18) DJ Sharkey and Hixxy, Bonkers (1996)
We all do stupid things when we're young. Mine was a dark period of all-night raves, white gloves and whistles. Let's just move on and pretend this didn't happen.
19) Green Day, Nimrod (1997)
Hard to believe now, but Green Day used to be brilliant. Their 1997 album beats Dookie to the punch for two reasons: 1) it was the album to bring MonkHammer back from the brink of a life of 190bpm techno (also see Terrorvision's underappreciated Shaving Peaches), and 2) the Manchester Apollo date supporting the album was MonkHammer's first proper gig … if you discount The Wurzels, The Crazy Gods of Endless Noise and Nine Inch Snails, which we obviously do!
20) The Prodigy, The Fat of the Land (1997)
Picture the scene: A teenage boy, quiet and polite, patiently awaits his mother in a small market town car park while she visits the nearby doctor's surgery. With nothing to read but a road map of the British Isles and the instruction manual to a 1985 VW Golf GTI, he turns to the radio, praying through gritted teeth that the only viable option, BBC Radio 1, might have miraculously chosen that moment to play against type and broadcast something listenable. Eventually, the sweeping, whistling, tuning static gives way to a crisp, broken beat, punctuated by what sounds like a cartoon whip, and then…
…and then the guitars kick in. SOLD!!!
21) Red Hot Chili Peppers, Californication (1999)
The Funky Monks were untouchable in 1998, a truly world-straddling, sock-rocking, lightbulb-lugging, funk-rock behemoth. I had the albums, the shirts, the posters, the hoodie…. but 1999 marked a tectonic turning point. A great album, but not a great RHCP album, Californication marks the start of a dramatic and catastrophic descent into mediocrity (and far beyond). The first of many giant-slayings.
22) Andrew WK, I Get Wet (2001)
Where do you start with the party prince of PMA's perennial classic? OK, I admit it, this album didn't change my life in any way, it's just brilliant and makes me want to don a Hawaiian shirt and put my head through things, and who wouldn't want to celebrate something like that?!
23) The Descendents, Everything Sucks (1996)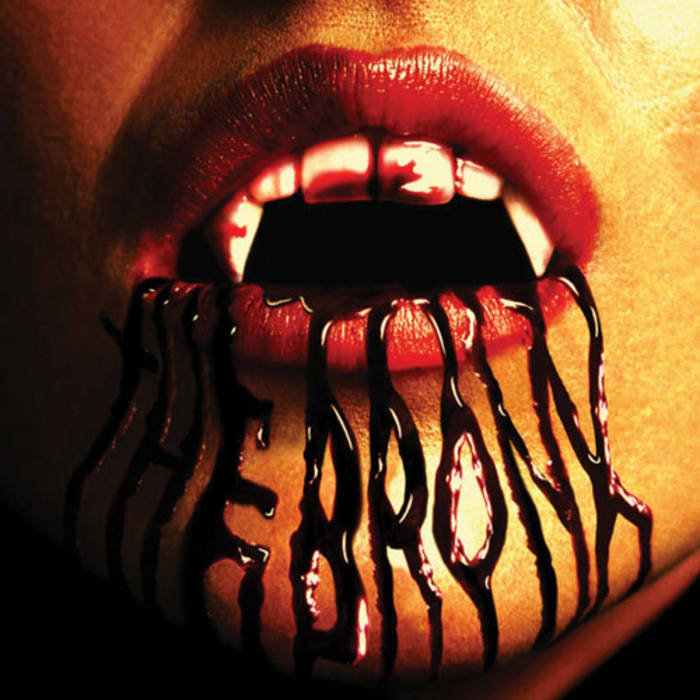 24) Slipknot, Iowa (2001)
25) The Bronx, The Bronx (2003)
26) NOFX, War on Errorism (2003)
27) Clutch, From Beale Street to Oblivion (2007)
28) Fucked Up, The Chemistry of Common life (2008)
29) Baroness, Blue (2009)
30) Slayer, World Painted Blood (2009)
File under "Albums that Kick-Started Life-Long Artist Obsessions, Often Embarrassingly Late Into Their Careers, and Often Bought on a Drunken Whim via Amazon Marketplace". The delay in accepting Slayer into my life in particular is just shameful, but as we all know: no one enters this world a Slayer fan, but everyone leaves it.
31) Refused, The Shape of Punk of Come (1998)
I shan't try to pretend I was there from the start, or even that Refused were the band to introduce me to hardcore (that accolade goes to The Bronx), but as the ground zero for so many favourites, it seems churlish to ignore such a seminal classic. Without Refused, there's a very strong chance MonkHammer would still be listening to DJ Dougal and MC Skibadee tear it up in a Milton Keynes roller-skating rink. The horror….
32) Madeleine Peyroux, Careless Love (2004)
Standing out in this list like a llama in a morph suit at a convention for timid ants, jazz singer Madeleine Peyroux's second album is a masterpiece of gentle beauty, and cracked MonkHammer's stubborn shell at a time when he needed it most. Let's just say that when the storm closes in, sometimes you need to embrace the chaos, but sometimes you want the comfort of the eye. Even the biggest Cannibal Corpse fan needs a little respite once in a while.
33), Mastodon, Leviathan (2004)

The older you get, the harder it becomes to fall in love with an album straight away, to fall head over heels on first listen, but that's exactly what happened with Mastodon's nautical masterpiece, a chance purchase based on various end-of-year lists opening  doors to new realms of heavy and progressive brutality for this punk-n-roll loving greaseball. Shame they're gash now.
34) Gallows, Orchestra of Wolves (2006) / The Hedrons, One More Won't Kill Us (2007)
Towards the end of 2006, MonkHammer started a new job as an Entertainment Researcher. The following year, he was put in charge of the music. These were the first two albums he received promo copies of, and both are still on heavy rotation.
From tiny acorns…
35) Lafaro, LaFaro (2010)
Gallows had their time, and The Hedrons sadly disappeared after just one album, but the one band from those days that really stands out is Northern Irish ragers LaFaro. The single biggest discovery I have made after more than a decade in this job. If you do nothing else with this list, make sure you go and listen to either of their albums, and thank me later.
36) The Blackout Crew,Time 2 Shine (2009)
Happy hardcore rears it's ugly head once again, but this time I'm far from ashamed, because Time 2 Shine is a parping, OTT barrel of day-glo lunacy that does for hip hop what I Get Wet did for rock. Glorious.
37) All Pigs Must Die, God Is War (2011)
As far as unrelenting aural violations go, God Is War is a doozy, and marks the moment MonkHammer fully realised the pure unadulterated genius of Kurt Ballou. Also, the start of a solid six-month devotion to the historic output of Godcity (and tinnitus).
38) The Ongoing Concept, Handmade (2015)
The very reason you are reading this article, Handmade was the first album MonkHammer ever reviewed. Described at the time as "album of the year so far" and "outstanding", it's safe to say that neither the album nor the review have quite stood the test of time. It's alright though.
39) Power Trip, Nightmare Logic / Jamie Lenman, Devolver (2017)
Two wildly different albums, but two timely reminders that 1) you should never stop caring about the things you love, and 2) "rock is dead" is literally the dumbest thing ever said.
40) Dee Snider, For The Love of Metal (2018)
We started this journey with the first album I ever bought, so it feels only right to end it with the last, and what an album. I never quite connected with Twisted Sister, but this solo effort from frontman Snider is something else. If I die before having screamed "we are all fucking metal" in a club full of like-minded metalheads, then all has been for naught. So long, folks, and thanks for the memories.
---
---
Categories: Features